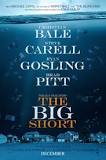 President Trump and his supporters are rolling back Dodd-Frank. If you don't know what that is, find out here.
Why?
Because what happened in 2008, the housing mortgage meltdown and the bank bailouts, is being set up to happen again thanks to #45.
Understanding HOW and WHAT the bankers and regulators did is the first step in becoming an informed citizen.
And there's a pretty painless way to understand what they did and how they did it.
Watch the movie "The Big Short."   And if you need to re-watch it, do. I know I did.
Let me know how it worked for you. And if you have any questions about it, post them here and let's pull back the curtain on the shenanigans of the financial priesthood.